Unbeatable Maple Prices!
Custom, personalized hard maple bats just $55.
Wagner Bats: High Quality, Personalized Baseball Bats


Looking for a high quality, customized baseball bat at a great price? You've come to the right place! Wagner Bats LLC, proudly located in Appleton, Wisconsin, hand-turns every baseball bat, using professional quality Northern White Ash and Hard Maple.
Recently Featured in the Post-Crescent
Appleton bat maker's wood shavings help create specialty brew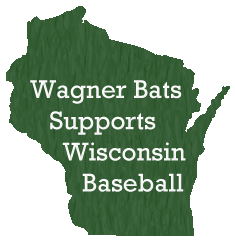 Personalized Ash Bat: $45 each
Personalized Ash Fungo Bat: $45 each
Personalized Maple Bat: $55 each
Contact us online or call (920) 730-8497 to place your order today!
Learn More About Wagner Bats